CITROËN ADVANCED COMFORT

With Citroën Advanced Comfort® technology and comfortability are integrated to exceed all your expectations.
It's easy to find and learn about the Citroën Advanced Comfort® programme.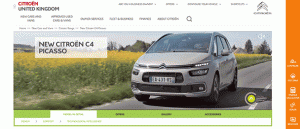 Just look for the Citroën Advanced Comfort® logo at the top of the page and play the video to discover the exclusive comfort features of your chosen vehicle.

FACILITATE LIFE ON BOARD
You spend a lot of time in your vehicle. That's why Citroën has gone all out to make your journey as comfortable as possible by designing a roomy, uncluttered and functional interior with plenty of storage spaces
You can have all the room you need with the Modutop® of Citroën Berlingo to keep everything within easy reach without cluttering your vehicle!
STRESS-FREE TRAVEL   
Calm and relaxed. Is that how you like to feel when on the move? The Citroën Advanced Comfort® programme has been designed to deliver a new kind of comfort in which everything is very quiet and accessible so you can relax and enjoy your ride. In addition to our comfortable seats and our quiet cabin, noise and vibration from the road have been reduced to a minimum so every Citroën car delivers unrivalled comfort to each passenger.
Citroën C4 SpaceTourer and Grand C4 SpaceTourer perfectly demonstrate Citroën's interior expertise. Welcoming, bright, spacious and warm, they feel like home from the moment you jump in. A key part of this exceptional feel is the Relax function*, which provides ultimate MPV comfort for everyone through inspired use of technology.
*Standard on Hype Grey ambience and optional on Dune Grey ambiance.

SEAMLESS USE
Connection problems and hours of phoning from the side of the road are things of the past. With the practical and intuitive driving aid technologies and improved connectivity for your personal devices, you stay connected with your car. Daily driving becomes more convenient, simpler and safer.
INNER CALM 

 After a very busy day, we all need to catch our breath!
Using new technology and an intelligent design, Citroën Advanced Comfort® is a programme that keeps you relaxed and refreshed in body and mind! To do that, your car has been designed to create a peaceful feeling, with restful and adjustable ambient lighting, soft and inviting materials, and healthy air quality.
Why shouldn't the interior of your car be a source of calm and well-being?
You can see for yourself!